Reliability hardware design services
The key point to the chip reliability test is the hardware designs, so as to highlight the real performance of the chip. VESP Technology Corp. owns a dedicated hardware design team and is the only one third-party laboratory in Taiwan that can provide independent design reliability test hardware. We insist on customer-oriented service concept and correct through direct discussion in order to provide high-quality, fast delivery and help customers get the opportunity in the competitive market. VESP Technology Corp. Provides hardware services as follows:
1.Schematic Design
2.PCB layout (PCB Layout)
3. Outsource production of PCB and PCBA
4. Hardware quality test verification
5.Special parts specification purchase
6. High-frequency RF design and production
Schematic Design
Adopt OrCAD production schematic, and the hardware is designed according to the customer's IC requirements to draw a matched schematic. And the hardware is made according to the schematic design. VESP Technology Corp.has rich experience in experiment items, machine matching, power distribution, circuit impedance matching and other requirements in the design of the schematic diagram to strive for stable quality
In addition, the OrCAD BOM management system is introduced to ensure the correct specifications of the parts in the schematic design. It can also be connected to the type of internal self-prepared materials, and automatically check the component specifications, wiring, and package pins to reduce unexpected errors, decide whether to purchase new materials and confirm in advance to shorten the delivery time.
PCB Layout
The PCB design is based on the schematic diagram to achieve the layout and functions required by the circuit designers. VESP Technology Corp. adopts two kinds of PCB circuit design software, Allegro and PDAS, both of which are mainstream software in the market. Due to the autonomous layout, schematic and circuit designers can communicate directly, adjust and optimize circuit layout and shorten development time. We also can provide technical consulting such as various stacked structure, blind and buried hole design, back-drilling, impedance matching, material selection. VESP Technology Corp. adopts Allegro software that is the main application software with a powerful and auxiliary design functions to help designers complete the layout efficiently and reduce the error rate.
PCBA quality inspection
All the finished hardware products need to pass 100% of VESP Technology Corp. internal PCBA quality inspection process. Resistance measurement is regarded as the priority in quality inspection process. Therefore, we introduced the Agilent high resistance meter to measure the high resistance and insulation materials of PCB and some important components, electronic components and electromechanical components. The DC resistance measurement range is from 103 Ω to 1.6 * 1016Ω. Its extremely wide resistance measurement range allows to measure the resistance parameters of capacitors, relays, switches, connectors, cables, and PCBs accurately to ensure that there is no risk.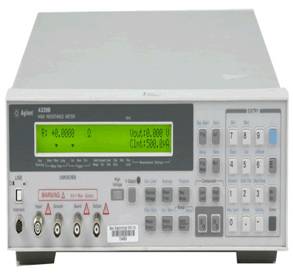 Aglient-4339B
Hardware classificiation
HTOL

與

HAST

專板

(Dedicated Board)

製作

訊利

SSE

公板

京元

KYE

公板

DI

公板

Socket Card

設計製作

DUT Card

設計製作

MCC LC2

獨立溫控公板

MCC HPB 5

系列專板

高頻

RF

架構設計製作

其餘老化應用專板設計製作
---
Customer Service
Mr. Su / Hardware evaluation and integration engineering / 03-6669700 ext. 6261
Mr. Lin / PCB Layout design / 03-6669700 ext. 6220